STAGE/HOUSE MANAGEMENT & CREW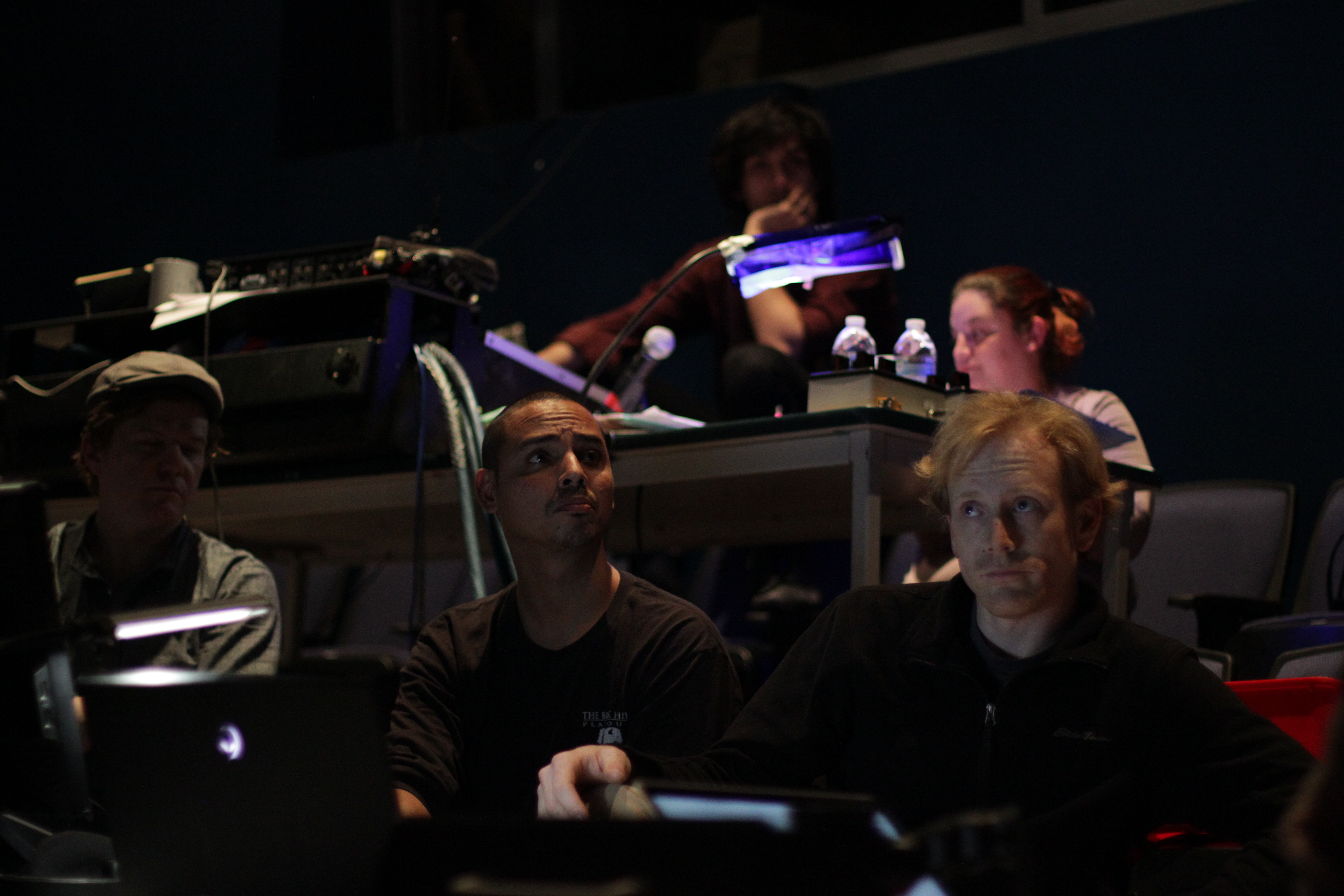 Stage & House Management
The primary objective of the department is to provide a thorough understanding and familiarity with the theories, techniques, and skills required of a Stage Manager in a theatrical production. It includes a comprehensive investigation of various responsibilities/tasks performed by stage managers and the tools used in different production situations. The department helps students explore the collaborative process in building effective team management skills and the stage manager's art of diplomacy and communication. In addition to theoretical classes, students will have the opportunity to either observe or experience the process of stage managing, from rehearsals to performance.

House management teaches students to manage ticket sales and audience flow during before and during our live performances.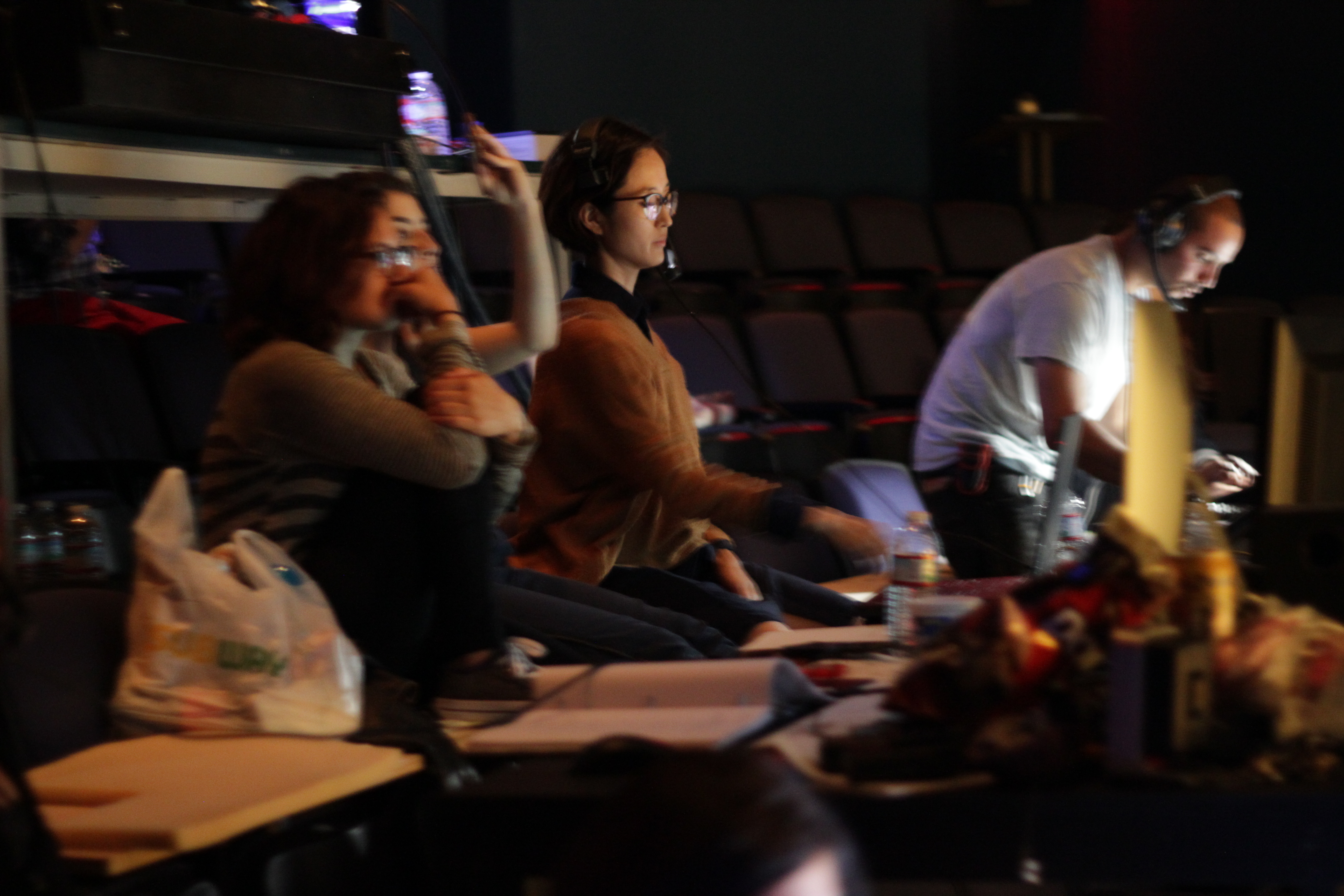 Crew

In addition to stage management, ELAC offers the opportunity to be a crew member on any of our productions. We offer positions in
lighting, sound, scenery, wardrobe & makeup and
board operator.
The students will work in an educational environment while emulating the conditions they will encounter in a professional production. Since we offer a multidisciplinary approach to the study of theater, we strongly encourage any of our students to participate in the crewing experience.
Opportunities
Like all of our other programs, we encourage our students to finish within two years and transfer to a four-year college (see complete list of our
degrees and transfer degrees
). Our faculty offers extensive support in application and port-folio preparation to transfer, establishing a high rate of transfer success.
Many of our students also enter the labor market after completing a degree, to pursue a career in the entertainment industry, with the support of our faculty member who have cultivated many relationships with prominent institutions such as Center Theatre Group, A Noise Within, LATC, Universals, etc.
---
Classes
Register for classes
Apply to ELAC
TECTHTR 323 Stage management - 3 units
TECTHTR 342 Technical stage production - 3 units
TECTHTR 348 Stage management practicum - 3 units
TECTHTR 349 House practicum I & II - 2 units
Certificate

Stage Management & Production Certificate of Achievement

Stage Management and Production is designed to teach students how to work as stage managers or production managers. These courses provide an aspiring stage manager, producer, or director with real production experience in addition to lecture classes.

Required coursed:

13 units

THEATER 100 Introduction to Theater - 3 units

TECTHTR 323 Stage Management - 3 units

TECTHTR 342 Technical Stage Production - 2 units

TECTHTR 348 Stage management Practicum - 2 units

TECTHTR 300 Stagecraft - 3 units

Elective courses:

3 units

(Choose one)

THEATER 200 Introduction to Acting - 3 units

or

THEATER 260 Acting I - 3 units
TOTAL 16 units
Click here for a PDF version
Faculty
Staff
Nathan Davis - Sound, Projections - davisnb@elac.edu
Stephen Azua - Lighting, Scenic - azuasm@elac.edu